Principal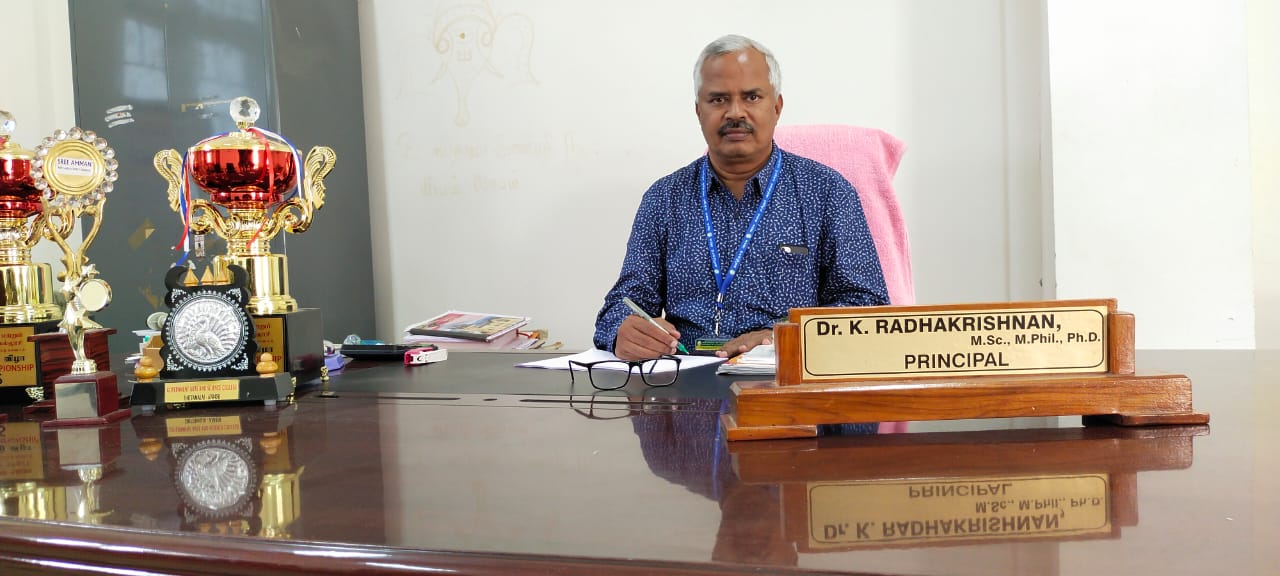 Dr. K. RADHAKRISHNAN, M.Sc., M.Phil., Ph.D.
PRINCIPAL

09443882951
gascsathy@gmail.com
Principal's Message
"Education is the most powerful weapon which you can use to change the world" - Nelson Mandela
Greetings!
I am extremely elated to be the Principal of Government Arts and Science College, Sathyamangalam, a reputed institution. Equipped with the state of art facilities, the college was established in 2016. The institution is dedicated for higher learning especially for the students from the rural area in and around Sathyamangalam, Erode district.
The College presently offers ten UG Courses with the strength of about 900 students. Both Arts and Science departments are conducting seminars, conferences and workshops in their respective discipline to provide a unique platform to the fresher's in the particular field. Apart from curriculum activities, we have National Service Scheme (NSS) and Youth Red Cross (YRS), and are rendering their services to the students. The students are beneficiaries in receiving various scholarships as implemented by the Government of India and Tamil Nadu. To fulfill the academic needs and demands of the students, they are taken to curriculum oriented visits in and around the town. Students are exposed to a plethora of job opportunities from the employment exchange offices by way of awareness programmes and job fairs. Students participate in various competitions conducted by other institutions and bring laurels.
Students are trained to be creative, imaginative, disciplined with ethics and inculcate the best virtues to become future leaders and elevate the status in the society.The progress of the students is monitored to have a holistic development which in turn helps them to be independent and professional. I witness rapid growth in infrastructure to furnish to the contemporary needs which are extended by the state and central governments.
I am proud to state that the teaching and non-teaching staff of this college is highly competent and passionate in rendering their services in both academic and administration. I strongly believe the quotation "Knowledge is Power. Information is liberating. Education is Premise of progress in every society, in every family" – Kofi Annan, Former UNO General Secretary. As Kofi Annan says, I strongly hope that the students who get education from this institution will be very helpful and contribute their education to build healthy families and a good society.

Best Wishes
Principal